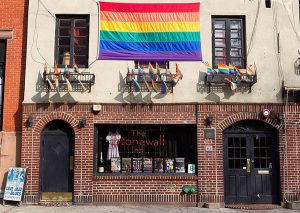 Fifty-two years ago, gay, queer, and trans* people in New York City got fed up.
Back then, the cops could send you to jail just for hanging out with gay people. And each time they did, gay people in New York City got a little bit angrier. Finally, on June 28, 1969, a police raid on a gay bar called the Stonewall Inn pushed the local gay community past their breaking point.
Six days of protests followed in what came to be called the Stonewall Uprising — which lit the fuse that became the Gay Liberation Movement. Stonewall patrons and neighborhood residents clashed with the NYPD in the streets. We thank them for standing up for themselves and for so many others: Marsha P. Johnson, Sylvia Rivera, and countless others. Today, LGBT Pride Month is celebrated every June to remember Stonewall and carry on the tradition of people standing up for their rights and to be respected for who they are.
To learn more about the history of Pride Month, check out this article on the them. website.

Why Pride Month still matters
Pride matters because stigma, discrimination, unemployment, and homelessness are everyday realities for LGBTQIA+ people.
Pride matters because people want to celebrate themselves and be in a community with others.
Pride matters because the old and young need to connect and learn from each other. Together, they are much more powerful and resilient as one.
Pride matters because our health depends on it. If you're living with HIV, you may feel the sting of stigma every day. You might not think twice about telling a stranger you have diabetes or high blood pressure, but you may think about it before you go telling just anybody you're living with HIV. Pride matters because you matter.
Back in 1969, LGBT people faced stigma and hate simply because of their gender identity or who they loved. There was (and still is!) no good reason for it beyond the fact that closed-minded individuals felt uncomfortable or afraid of queer folk.
So today, Pride Month tells the world, "your discomfort is no excuse for treating me badly and on top of that, I'm beautiful and I'm not to be shamed."
Now that gay people have the right to get married and serve in the military, it feels like we've made tons of progress as a society. LGBT people are much more accepted today than ever before. Still, discrimination hasn't gone away: there's still a stigma if you're gay, lesbian, bisexual or trans. We still have much to do, especially for trans and non-binary folks.
Acknowledging and celebrating LGBT Pride Month is one way to take a stand against hate.

How to celebrate LGBT Pride Month
Make sure to celebrate yourself. You're worthy of every moment.
Next, we suggest checking for local events like marches, parades or festivals. If you can't find any, start one of your own!
In Cleveland this year, we have two Pride celebrations planned. Pride in the CLE, led by the LGBT Center of Greater Cleveland and a number of other community groups, will be online and telecast on Friday, June 4th at 7:30 pm on WKYC Channel 3. Second, the Pride Ride is kicking-off at Edgewater Park on June 5th at 10 am. Adhering to state-mandated safety guidelines, individuals and organizations are encouraged to show off their pride by dressing up their cars, bikes, trucks, and vans in a distanced ride through the Edgewater and Detroit Shoreway neighborhoods. Search the hashtag #PrideInTheCLE.
This year, there will be performances by Eris Eady, Kyle Kidd with Marcus Alan Ward, and Corry Michaels.
Live outside of Cleveland? Hop on MisterB&B — it has an alphabetical listing of LBGT-related events in cities around the United States. The website and the app should work for getting info on events near and far away. This is a global Pride evenst calendar if you're thinking of taking any international flights.
Make a point of mentioning LGBT Pride Month in your social media posts. You can add links to news stories or events to your TikTok, Twitter, Instagram, and Facebook feeds. Don't forget your local #PrideMonth and other #LGBT hashtags.
---

Come join our private, stigma-free, supportive community.
Health management tools with medication & appointment reminders.
Social networking in a community conversation & private chats.
---

We take a stand because it's the right thing to do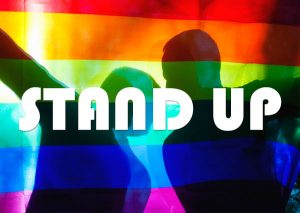 It's important to remember that the principle behind Pride Month is bigger than the people it supports and defends. Nobody should ever feel ashamed or be hurt because of who they are or who they love.
Standing up for LGBT Pride in June is about standing up for yourself and your community. We're taking that energy from Pride Month and hoping it energizes us for the next year. Equality and equity for all? You bet we support it.
Related Blogs:
---
Positive Peers is made possible through a U.S. Department of Health and Human Services Health Resources and Services Administration, HIV/AIDS Bureau Special Projects of National Significance (SPNS) Grant to The MetroHealth System. Click here for more information about the SPNS grant initiative.
Positive Peers is a private app for young people living with HIV. Learn how you can earn rewards for your participation.