If you think people just like you — young, strong, and living with HIV — should have a greater voice in how things get done, here's a chance to do something about it: apply to be an Ambassador to National Youth HIV & AIDS Awareness Day (NYHAAD) and let your voice be heard!
The application is due by noon on January 6, 2017, so if you want to apply, you should get started soon. (Here's the page to do it. It might be a hassle to do the application on your phone, so you may be better off finding a computer to fill it out on).
National Youth HIV & AIDS Awareness Day has been happening every year since 2013 to tell the world about HIV issues that matter most to young people. The next one is April 10, 2017.
The day is sponsored by Advocates for Youth, an organization that believes young people should have all the information they need to make smart decisions about sex and their bodies.
It's not a crazy notion to think people living with HIV deserve respect and support (it's like, the whole reason for Positive Peers). And it's perfectly sane to think raising awareness about HIV can make sure fewer people get HIV to begin with.
Speaking up — for yourself, for your friends, for everybody living with HIV — is a great way to break the silence and change up how the world thinks about HIV.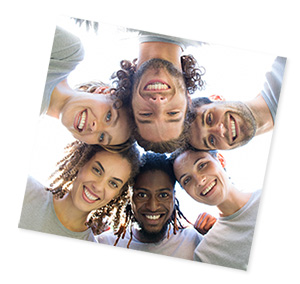 It used to be people didn't talk about whether gay people should have the legal right to get married like everybody else. Now gay marriage is approved by the Supreme Court because thousands of people stood up and spoke up.
If you're comfortable speaking up to end the hate and silence around HIV, this is your chance to turn up. You can even invite your friends to join you. There is power in community! 🙂
What does an NYHAAD Ambassador have to do?
The folks at National Youth HIV & AIDS Awareness Day think highly of their ambassadors. If you're approved, you'll be expected to do things like:
Promote National Youth HIV & AIDS Awareness Day at school, in the community, and so on.
Participate in conference calls (these happen monthly or bi-monthly).
Provide feedback on the preparations for NYHAAD.
Create video or written blog posts for org or its partner websites.
Organize a local event tied to National Youth HIV & AIDS Awareness Day.
There are 14 duties listed on the Ambassador application page. It might sound like a lot of work, but everything worth doing has some work involved.
---

Come join our private, stigma-free, supportive community.
Health management tools with medication & appointment reminders.
Social networking in a community conversation & private chats.
---
What do I have to do on the application?
The application asks for a bunch of personal stuff like your name and email address. You have the option to link to your social media profiles and list your HIV status and sexual orientation. It also asks what you're doing to help out with issues like:
Condom/contraceptive access
Sex education
LGBT rights
HIV/AIDS peer education
Domestic violence issues
You'll also be asked to write short responses (no more than 300 words) about why you want to be an Ambassador, what you hope to accomplish, and one issue that matters a lot to you when you think about HIV and young people.
If you've read all the way down here, maybe you want to apply! 😉 Again, the deadline is noon January 6, 2017. Check out the application page and see what you think.